Back to all posts
Posted on
Get a Head Start on the New School Year!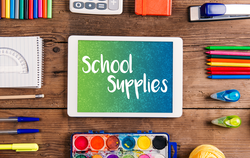 We've posted important information about the supplies your child will need for the coming school year. You can get a head start on purchasing supplies for fall by visiting our Supply Lists & BYOD page, and then enjoy your summer with the knowledge that you have everything you need.
Optional Pre-Purchase Package
This year, Brookwood is offering parents the opportunity to pre-purchase school supplies for fall through Write-On Stationery. This online service is not mandatory, but it promises to save you time, and as an added benefit, a portion of your purchase will be returned to the school as a fundraiser. 
You may place your order directly on the Write-On Stationery website with Visa, MasterCard, Visa Debit or Interac Online. Once on the site, search for and select "Brookwood School - SPRUCE GROVE", then choose your child's 2022-2023 grade from the menu that appears to begin your order.
Online orders must be submitted by Wednesday, June 1, 2022. Ordered supplies can be delivered directly to your home for a cost of $10.
Happy shopping!
 
For more information contact:
Brookwood School
Phone: 780-962-3942
Email: brookwood@psd.ca